Chase The Next Bullet HS
Quarter Horse - Stute - geb. 19.04.2017 | ZURÜCK
Chase the Next Bullet ist eine ausgewogene Mischung ihrer beider Eltern. Sie hat ein angenehmes Temperament und ist sehr menschenbezogen. Dennoch ist sie ein sehr forderndes Pferd, dass alle Dinge ganz genau wissen möchte und Fehler nur mittelmäßig gut verzeiht. Chasey ist eine sehr selbstbewusste Stute, die aber dennoch dazu neigt, sich vor unvorhergesehene Sachen zu erschrecken. Neue Dinge können anfangs zum Problem werden und sie stellt sich erst langsam darauf ein. Da muss man ihr Zeit geben, da sie sonst tatsächlich überkochen kann.
157cm - Dunalino (ee/Aa/nCr/Dd) - V-LN: 4604505
Züchter: Hofer Stable - Besitzer: Cayrock Ranch
Reiter: Jennifer Wolff
---
Potenzial: Working Cowhorse LK2 - Trail LK4 - Reining LK1 - Cutting LK2
---

Bilder &copy Zuzule
STAMMBAUM
NACHKOMMEN
Chase The Next Bullet hat keine Nachkommen verzeichnet
ERFOLGE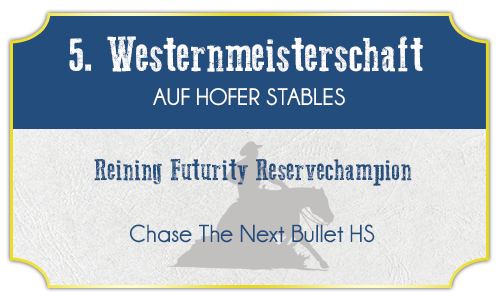 Chase The Next Bullet hat mit 81 Starts 168 Punkte gesammelt.
5 Siege, 46 Platzierungen.

Platz
Datum
Turnierort
Ausschreibung
Veranstaltung
Heimathof
Reiter
11

24.10.2021
Turnierstall Zille
Reining Junior (5-7 Jahre)
Western im Oktober
Cayrock Ranch
Anna-Lena Milton
3

24.10.2021
Turnierstall Zille
Cutting Junior (5-7 Jahre)
Western im Oktober
Cayrock Ranch
Anna-Lena Milton
4

24.10.2021
Turnierstall Zille
Working Cowhorse Junior (5-7 Jahre)
Western im Oktober
Cayrock Ranch
Anna-Lena Milton
7

23.09.2021
Gutshof Erlengrund
Reining Junior (5-7 Jahre)
Strand-Westerntag
Cayrock Ranch
Anna-Lena Milton
11

23.09.2021
Gutshof Erlengrund
Cutting Junior (5-7 Jahre)
Strand-Westerntag
Cayrock Ranch
Anna-Lena Milton
10

23.09.2021
Gutshof Erlengrund
Working Cowhorse Junior (5-7 Jahre)
Strand-Westerntag
Cayrock Ranch
Anna-Lena Milton
1

25.07.2021
Turnierstall Zille
Reining Junior (5-7 Jahre) - Gruppe 2
Wilder Westen
Cayrock Ranch
Anna-Lena Milton
12

25.07.2021
Turnierstall Zille
Cutting Junior (5-7 Jahre)
Wilder Westen
Cayrock Ranch
Anna-Lena Milton
5

25.07.2021
Turnierstall Zille
Working Cowhorse Junior (5-7 Jahre)
Wilder Westen
Cayrock Ranch
Anna-Lena Milton
3

21.07.2021
Nereus Competition Corner
Reined Cowhorse Open
NCC Let It Rein Again V
Cayrock Ranch
Anna-Lena Milton
1

21.07.2021
Nereus Competition Corner
Working Cowhorse Open - Abteilung 2
NCC Let It Rein Again V
Cayrock Ranch
Anna-Lena Milton
7

21.05.2021
Gutshof Erlengrund
Reining Junior (5-7 Jahre)
Insel-Westerntag
Cayrock Ranch
Anna-Lena Milton
2

21.05.2021
Gutshof Erlengrund
Cutting Junior (5-7 Jahre)
Insel-Westerntag
Cayrock Ranch
Anna-Lena Milton
10

21.05.2021
Gutshof Erlengrund
Working Cowhorse Junior (5-7 Jahre)
Insel-Westerntag
Cayrock Ranch
Anna-Lena Milton
14

18.05.2021
Silver Coin Stable
Reining Junior (5 - 7 Jahre)
Its REINING Man
Cayrock Ranch
Anna-Lena Milton
5

18.05.2021
Silver Coin Stable
Reining Open (ab 3 Jahren) - Abteilung 2
Its REINING Man
Cayrock Ranch
Anna-Lena Milton
3

18.05.2021
Silver Coin Stable
Cutting Junior (5 - 7 Jahre)
Its REINING Man
Cayrock Ranch
Anna-Lena Milton
24

18.05.2021
Silver Coin Stable
Cutting Open (ab 3 Jahren)
Its REINING Man
Cayrock Ranch
Anna-Lena Milton
4

18.05.2021
Silver Coin Stable
Working Cowhorse Junior (5 - 7 Jahre)
Its REINING Man
Cayrock Ranch
Anna-Lena Milton
13

18.05.2021
Silver Coin Stable
Working Cowhorse Open (ab 3 Jahren)
Its REINING Man
Cayrock Ranch
Anna-Lena Milton
8
69.5)
07.05.2021
Hofer Stables
Reining Junior (5-7 Jahre), Abteilung 1
Speed Up!
Cayrock Ranch
Anna-Lena Milton
12
67.5 / 01:27)
07.05.2021
Hofer Stables
Cutting Junior (5-7 Jahre)
Speed Up!
Cayrock Ranch
Anna-Lena Milton
9

07.05.2021
Hofer Stables
Working Cowhorse Junior (5-7 Jahre)
Speed Up!
Cayrock Ranch
Anna-Lena Milton
6

05.05.2021
Silver Coin Stable
Reining Open (ab 3 Jahren), Abteilung 1
Solid Day
Cayrock Ranch
Anna-Lena Milton
5
74 / 02:25)
05.05.2021
Silver Coin Stable
Cutting Open (ab 3 Jahren), Abteilung 1
Solid Day
Cayrock Ranch
Anna-Lena Milton
3

05.05.2021
Silver Coin Stable
Working Cowhorse Open (ab 3 Jahren)
Solid Day
Cayrock Ranch
Anna-Lena Milton
7

29.04.2021
Gutshof Erlengrund
Reining Junior (5-7 Jahre)
Insel-Westerntag
Cayrock Ranch
Anna-Lena Milton
8

29.04.2021
Gutshof Erlengrund
Cutting Junior (5-7 Jahre)
Insel-Westerntag
Cayrock Ranch
Anna-Lena Milton
8

29.04.2021
Gutshof Erlengrund
Working Cowhorse Junior (5-7 Jahre)
Insel-Westerntag
Cayrock Ranch
Anna-Lena Milton
2
75.5)
15.04.2021
Hofer Stables
Reining Futurity - Finale (3 - 4-jährige)
5. Westernmeisterschaft - Finale
Cayrock Ranch
Anna-Lena Milton
6
70 / 02:13)
15.04.2021
Hofer Stables
Cutting Futurity - Finale (3 - 4-jährige)
5. Westernmeisterschaft - Finale
Cayrock Ranch
Anna-Lena Milton
9

15.04.2021
Eventzentrum Zahr
Catriona presents: Working Cowhorse Open
P f e r d & R e i t e r . 2 0 2 1 . DO
Cayrock Ranch
Anna-Lena Milton
4

07.04.2021
Hofer Stables
Reining Futurity - 1. Qualifikation (3 - 4-jährige)
5. Westernmeisterschaft - 1. Qualifikation
Cayrock Ranch
Anna-Lena Milton
2
78.5 / 02:05
07.04.2021
Hofer Stables
Cutting Futurity - 1. Qualifikation (3 - 4-jährige)
5. Westernmeisterschaft - 1. Qualifikation
Cayrock Ranch
Anna-Lena Milton
10

05.03.2021
Hofer Stables
Reining Futurity (3-4 Jahre), Abteilung 1
Speed Up!
Cayrock Ranch
Anna-Lena Milton
9

05.03.2021
Hofer Stables
Reining Open (ab 3 Jahre), Abteilung 2
Speed Up!
Cayrock Ranch
Anna-Lena Milton
6
74.5 / 01:13
05.03.2021
Hofer Stables
Cutting Futurity (3-4 Jahre)
Speed Up!
Cayrock Ranch
Anna-Lena Milton
22
68 / 01:29
05.03.2021
Hofer Stables
Cutting Open (ab 3 Jahre)
Speed Up!
Cayrock Ranch
Anna-Lena Milton
9

05.03.2021
Hofer Stables
Working Cowhorse Futurity (3-4 Jahre)
Speed Up!
Cayrock Ranch
Anna-Lena Milton
1

05.03.2021
Hofer Stables
Reined Cowhorse Open (ab 3 Jahre), Abteilung 2
Speed Up!
Cayrock Ranch
Anna-Lena Milton
2

25.02.2021
Green Oak Stables
Ranch Conformation (Open)
Open Ranchwork
Cayrock Ranch
Anna-Lena Milton
14

25.02.2021
Green Oak Stables
Ranch Boxing (Open)
Open Ranchwork
Cayrock Ranch
Anna-Lena Milton
21

25.02.2021
Green Oak Stables
Ranch Sorting (Open)
Open Ranchwork
Cayrock Ranch
Anna-Lena Milton
7

25.02.2021
Green Oak Stables
Ranch Fence Work (Open)
Open Ranchwork
Cayrock Ranch
Anna-Lena Milton
2

25.02.2021
Green Oak Stables
Ranch Penning (Open)
Open Ranchwork
Cayrock Ranch
Anna-Lena Milton
12

25.02.2021
Green Oak Stables
Ranch Riding (Open)
Open Ranchwork
Cayrock Ranch
Anna-Lena Milton
4

25.02.2021
Green Oak Stables
Ranch Roping (Open)
Open Ranchwork
Cayrock Ranch
Anna-Lena Milton
2

20.02.2021
Green Oak Stables
Reining Futurity (3-4 Jahre) - Abteilung 1
Working Western
Cayrock Ranch
Anna-Lena Milton
26

20.02.2021
Green Oak Stables
Cutting Futurity (3-4 Jahre)
Working Western
Cayrock Ranch
Anna-Lena Milton
18

20.02.2021
Green Oak Stables
Working Cowhorse Futurity (3-4 Jahre)
Working Western
Cayrock Ranch
Anna-Lena Milton
19

20.02.2021
Green Oak Stables
Ranch Riding (Open)
Working Western
Cayrock Ranch
Anna-Lena Milton
11

20.02.2021
Green Oak Stables
Reined Cowhorse (Open) - Abteilung 1
Working Western
Cayrock Ranch
Anna-Lena Milton
17
68.5
18.02.2021
Silver Coin Stable
Reining Futurity (3 - 4 Jahre)
It´s REINING Man
Cayrock Ranch
Anna-Lena Milton
6

18.02.2021
Silver Coin Stable
Reining Open (ab 3 Jahren), Abteilung 2
It´s REINING Man
Cayrock Ranch
Anna-Lena Milton
20
64.5 / 01:02
18.02.2021
Silver Coin Stable
Cutting Futurity (3 - 4 Jahre)
It´s REINING Man
Cayrock Ranch
Anna-Lena Milton
18
71 / 01:28
18.02.2021
Silver Coin Stable
Cutting Open (ab 3 Jahren)
It´s REINING Man
Cayrock Ranch
Anna-Lena Milton
5

18.02.2021
Silver Coin Stable
Working Cowhorse Futurity (3 - 4 Jahre)
It´s REINING Man
Cayrock Ranch
Anna-Lena Milton
11
70.5
18.02.2021
Silver Coin Stable
Working Cowhorse Open (ab 3 Jahren)
It´s REINING Man
Cayrock Ranch
Anna-Lena Milton
6

07.02.2021
Green Oak Stables
Jungpferdeschau für Quarter Horses (2-3 Jahre!)
Quarter Day
Cayrock Ranch
Jennifer Wolff
2

07.02.2021
Green Oak Stables
Reining Open - Abteilung 2
Quarter Day
Cayrock Ranch
Jennifer Wolff
12

07.02.2021
Green Oak Stables
Cutting Open
Quarter Day
Cayrock Ranch
Jennifer Wolff
15

07.02.2021
Green Oak Stables
Working Cowhorse Open - Abteilung 2
Quarter Day
Cayrock Ranch
Jennifer Wolff
20

06.02.2021
Silver Coin Stable
Reining Open (ab 3 Jahren), Abteilung 1
Solid Day
Cayrock Ranch
Anna-Lena Milton
1
76.5 / 01:29
06.02.2021
Silver Coin Stable
Cutting Open (ab 3 Jahren), Abteilung 2
Solid Day
Cayrock Ranch
Anna-Lena Milton
9
70.5
06.02.2021
Silver Coin Stable
Working Cowhorse Open (ab 3 Jahren), Abteilung 1
Solid Day
Cayrock Ranch
Anna-Lena Milton
3
76.5
05.02.2021
Hofer Stables
Reining Futurity (3-4 Jahre)
Speed Up!
Cayrock Ranch
Anna-Lena Milton
16

05.02.2021
Hofer Stables
Reining Open (ab 3 Jahre), Abteilung 2
Speed Up!
Cayrock Ranch
Anna-Lena Milton
8
72.5 / 01:26
05.02.2021
Hofer Stables
Cutting Futurity (3-4 Jahre)
Speed Up!
Cayrock Ranch
Anna-Lena Milton
1
79.5 / 01:27
05.02.2021
Hofer Stables
Cutting Open (ab 3 Jahre)
Speed Up!
Cayrock Ranch
Anna-Lena Milton
3

05.02.2021
Hofer Stables
Working Cowhorse Futurity (3-4 Jahre)
Speed Up!
Cayrock Ranch
Anna-Lena Milton
3

05.02.2021
Hofer Stables
Reined Cowhorse Open (ab 3 Jahre), Abteilung 1
Speed Up!
Cayrock Ranch
Anna-Lena Milton
10

17.01.2021
Green Oak Stables
Ranch Boxing (Open)
Open Ranchwork
Cayrock Ranch
Jennifer Wolff
17

17.01.2021
Green Oak Stables
Ranch Sorting (Open)
Open Ranchwork
Cayrock Ranch
Jennifer Wolff
5

17.01.2021
Green Oak Stables
Ranch Fence Work (Open)
Open Ranchwork
Cayrock Ranch
Jennifer Wolff
15

17.01.2021
Green Oak Stables
Ranch Penning (Open)
Open Ranchwork
Cayrock Ranch
Jennifer Wolff
13

17.01.2021
Green Oak Stables
Ranch Riding (Open)
Open Ranchwork
Cayrock Ranch
Jennifer Wolff
9

17.01.2021
Green Oak Stables
Ranch Roping (Open)
Open Ranchwork
Cayrock Ranch
Jennifer Wolff
7

03.01.2021
Turnierstall Zille
Reining
Winter Western
Cayrock Ranch
Jennifer Wolff
7

03.01.2021
Turnierstall Zille
Cutting
Winter Western
Cayrock Ranch
Jennifer Wolff
3

03.01.2021
Turnierstall Zille
Working Cowhorse
Winter Western
Cayrock Ranch
Jennifer Wolff
2

03.01.2021
Turnierstall Zille
Reined Cowhorse
Winter Western
Cayrock Ranch
Jennifer Wolff
GALLERIE